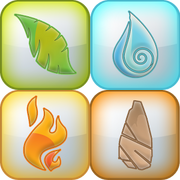 Elementals are beings of pure elemental energy.
Elemental Types
Edit
Fire Elementals
Edit
Fire Elementals are probably the weakest elemental, despite their immense power, they are dwarfed in this world made almost entirely of water. Where they thrive, they can use their powers to their best potential.
Pyrokinesis - The ability to generate and manipulate fire
Thermokinesis - The ability to generate and manipulate heat
Water Elementals
Edit
Due to the vast amount of water in the world, Water Elementals are yet a rare occurence, one being spotted about every year or so.
Hydrokinesis/Aquakinesis. - The ability to manipulate water
Arctikinesis - The ability to manipulate the arctic and ice
Earth Elementals
Edit
Earth Elementals are unconventionally strong, the Earth still being 90% land UNDERWATER.
Geokinesis - Earth Manipulation
Dendrokinesis - Wood Manipulation - Hylokinesis - Xylokinesis
Vibrokinesis - The ability to create vibrations
Vitreokinesis - Manipulate Glass
Terrakinesis - Manipulate the planet's earth
Tectokinesis - Manipulate tectonic plates
Sunakinesis - Manipulate and generate sand - Psammokinesis
Seismokinesis - Generate Seismic Blasts
Ferrokinesis - Metallokinesis - Manipulate Metals
Konikinesis - Manipulate Dust
Halokinesis - Manipulate Salt
Crystallokinesis - Manipulate Gems and Crystals
Light Elemental (Sol Elemental)
Edit
These Elementals have foresight, and take the form of a viewer's favorite person, whether they be desceased or alive. These Elementals have the following powers:
Solarkinesis - Ability to generate and manipulate solar energy
Ad blocker interference detected!
Wikia is a free-to-use site that makes money from advertising. We have a modified experience for viewers using ad blockers

Wikia is not accessible if you've made further modifications. Remove the custom ad blocker rule(s) and the page will load as expected.